I am the lucky Auntie to two cute little girls (Addison and Alexa) and just like most little girls they love love love Disney Princesses. I wanted to spoil them this Christmas and make some custom Disney Princess inspired gifts they could play with. They love dressing up in cute little costumes and accessories and also love helping their Grandma in the kitchen. My sister in law sent me a picture of some cute Disney princess aprons on Etsy and I knew I should make them some of my own!
Their favorite princesses right now are Anna, Elsa, and Rapunzel so I knew I had to make those. Their newest movie of choice to watch is Sleeping Beauty so Aurora was a good fourth choice.
Each apron has a sweetheart neckline so I was able to use one pattern and change out the skirt for each princess and add extra embellishments here and there.
The Anna apron was decorated with puffy fabric paint. I did the scallops by heat n bonding the darker blue panel to the lighter blue panel. It's not something I would do for a full size version of the costume but for a small piece and for playtime it worked out nicely.
Aurora has the small diamond yoke at the waistband that I just sewed into the waistline seam. There is also the pointed white band at the top.
Rapunzel had the same sweethear neckline but before I cut out the bodice I made two small tucks in the fabric and sewed in ribbon to make the faux lacing panel. The skirt is cut in three pieces and pink satin ribbon was topstitched down on top of the seams.
For Elsa I drafted an extra panel on the top to mimic her sheer sleeve. I decided on a solid panel of fabric since these are aprons after all and a sheer fabric wouldn't make much sense to block stains. The sequin fabric is actually something I bought at JoAnns and I ended up using the wrong side of it since the sequins were way too bold otherwise. I really like how it came out. The fabric choices could have been better but trying to find decent Elsa fabric a week before Christmas was impossible since everything was sold out.
Addison was born on Christmas Eve so for a birthday present I made her an Elsa cape to wear with her Elsa dress up costume. She's been tying blankets around her shoulders pretending to have a cape with a long train so I purposely made the cape very long so it would trail behind her. I didn't want to go too crazy with accuracy since she's 3 years old and it would probably just get trampled on. I made the cape with blue tulle and a sheer shiny metallic fabric. I found a layout of an Elsa cape online (just google Elsa cape and there are lots of renderings to borrow) and I resized it in Illustrator to match the length of fabric I had. The snowflakes and the large snowflake panel were cut out of heat n bond and ironed onto the sheer metallic fabric. The whole piece was then ironed on to the tulle. It made the fabric a little crunchy but I really like the finished look.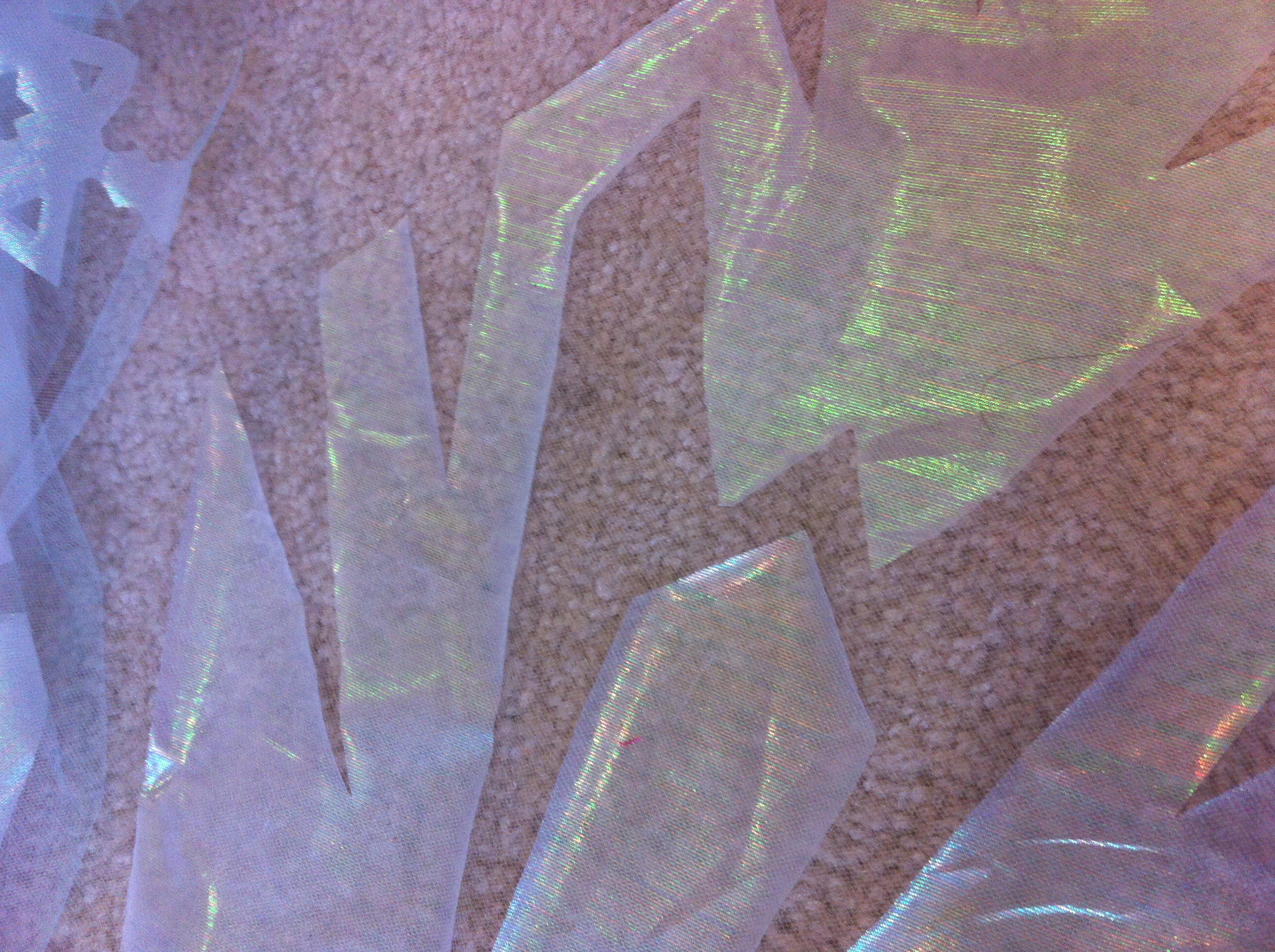 I'm excited to see if she wears the cape to the Frozen Sing Along they have tickets for next month!
And here she is on her birthday wearing her cape!
More updates for the half scale dress coming soon!
Happy Holidays!