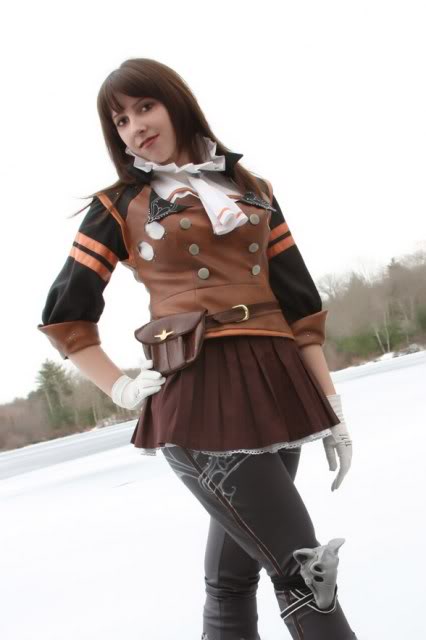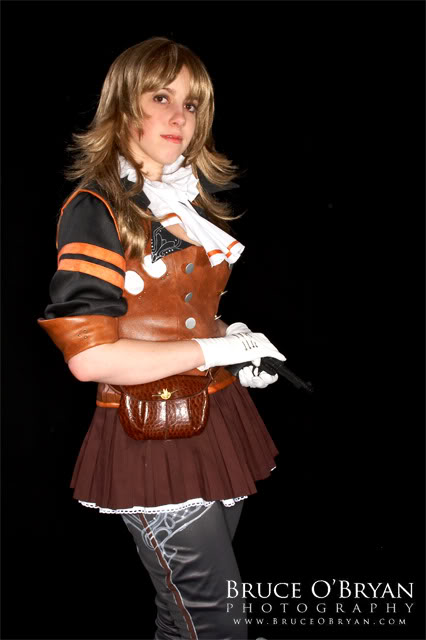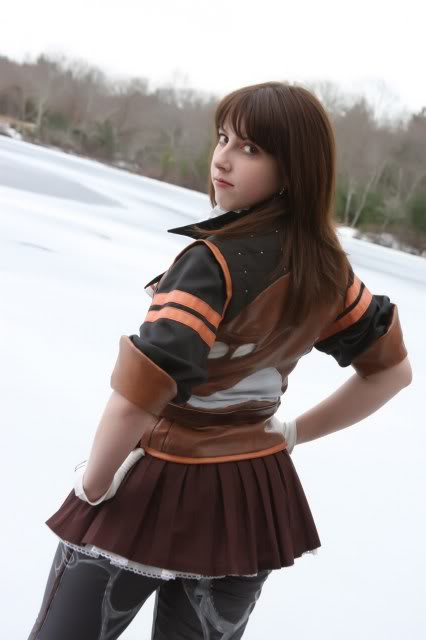 Fighter Class from Granado Espada
When I saw images from the game I fell in love with the costume designs, as many people have! I waited a good long while to work on any costumes from the game because they are just insane. I got to play the beta test of the game and fell in love with the whole look of it. I decided on the Fighter class because it was so different than anything I'd ever made before and I loved all the detail on the jacket. When I was given the opportunity to judge masquerade craftsmanship at Anime Boston, I decided to make the costume as something I could wear while judging.
Construction
The costume became the first thing I'd ever made where every pattern was self-drafted.
Pants
The pants are a poly spandex mix. I painted the white designs on them with fabric paint. The brown stripe down the side is hand sewn bias tape. The pants also have a scalloped hem with painted lead tape dangling from each scallop.
Skirt
The skirt is made from kona cotton and has a ton of knife pleats. They are sewn into a straight waistband with an attached white circle skirt with lace on the hem. The skirt zips with a lapped zipper on the side.
Jacket
The jacket is made of a stretch pleather from Spandex House that I painted with brown fabric paint to give it texture. The yoke on the back and the front of the shoulders is quilted with a layer of felt in between and embellished with silver brads. The jacket has 8 keyholes that open up to show the lining of the jacket. The black collars were hand embroidered using my straight stitch sewing machine. The sleeves are sewn into faux arms eyes that are separate from the main jacket. One sleeve snaps in to allow me to get in and out of the jacket easily. The jacket zips up on the side with a hand sewn zipper. The buttons are sewn on top of hand sewn faux buttonholes.
Partlet
The partlet is made of white cotton and has decorative pin tucking and a painted button brooch.
Accessories
The bag is made out of thick pleather and has a gold buckle and decorative pin. The gloves were bought in a vintage store and decorated with embroidery floss and brads. The knee piece was made out of painted paper clay and attached to spandex to keep it on my leg.
Boots
The boots were modified slouch boots that I covered. They have decorative embroidery, black elastic fasteners, and a metal and leather "goggle" looking design on the front.