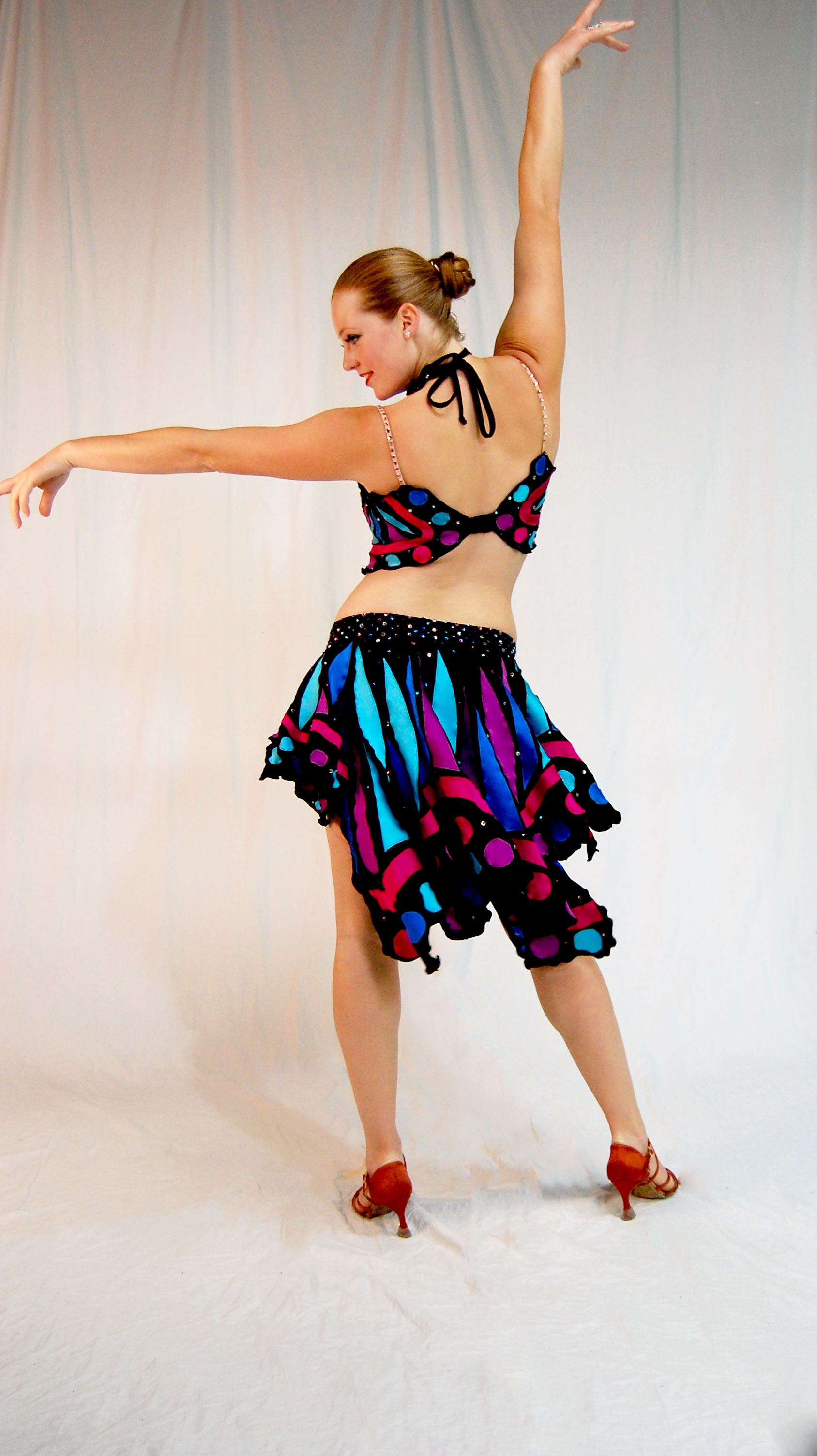 Latin Butterfly
This garment is a result of a collaboration with fellow graduate student Kelly Reddy Best as part of a functional design project. Our process began with a briefing of major Dancesport regulations of acceptable costume. Regulations included length of leg covering and acceptable embellishment levels based on the dancer's competition category. Further information regarding the functional requirements of Dancesport costume was drawn via the reading of Dancesport online forums, conversations with dancers and my own experience as an audience member at a Dancesport competition. Functional considerations of the design include ease of wear, reliable support for the breasts, dramatic movement to catch the eye of Dancesport judges, and vibrant coloration and embellishment to avoid being washed out by competition lighting.
For the design of the garment I was inspired by the graceful movement of butterfly wings and the colors of stained glass windows.
Construction
Bodice
The bodice of the costume is constructed over an existing bra to maximize comfort and support for the dancer. Each of the bodice panels is in the shape of a butterfly wing. The original bra straps were removed and replaced with skin tone straps with rhinestones applied to them.
Skirt
The skirt is constructed with built in boy shorts to fall under leg covering regulations and to provide coverage and modesty for the dancer when spinning. The skirt has varying panels of butterfly wing shaped panels sewn into the waistband. Each panel is lettuce edged and decorated with machine sewn appliques. The garment is further embellished with over 575 different sized and colored rhinestones for added sparkle under competition lighting. Each rhinestone was hand applied using rhinestone glue.
Necklace
The necklace was constructed by machine sewn open cutwork with additional rhinestones