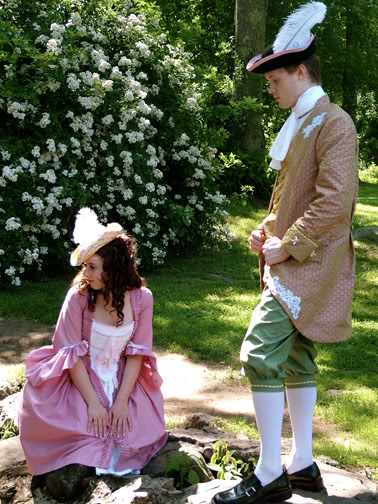 Madame Pinky McPoof
This costume was created for the Pembroke Tea Party. The theme that year was "Marie Antoinette" so I decided to make a pair of costumes that were cute, comfortable and elegant. I designed a knee length version of an 18th century style gown because it was July and the last thing I wanted to do was be in a long dress in 95 degree weather. I also changed the fabric to be mostly cotton so I wouldn't be too uncomfortable and hot.
Construction
Dress
Most of the pieces of the dress were constructed from existing patterns that I modified. The underskirt is a gathered drawstring cotton skirt. The bodice zips up the back and has a snap on/snap off pleated panel made to mimic the Watteau pleats found in many 18th century gowns.
Corset/Stay
I made an 18th century tabbed stay that I wore under the dress from a McCalls sewing pattern. It was made out of cotton duck cloth and kona cotton and it's boned with over 50 cable ties. I also have a pair of pocket panniers made of cotton and cable ties to poof out the sides of my dress.
Accessories
The hat is a straw hat that I decorated with feathers and various bits. The shoes are FanplusFriend Angelic Pretty crown shoe replicas.