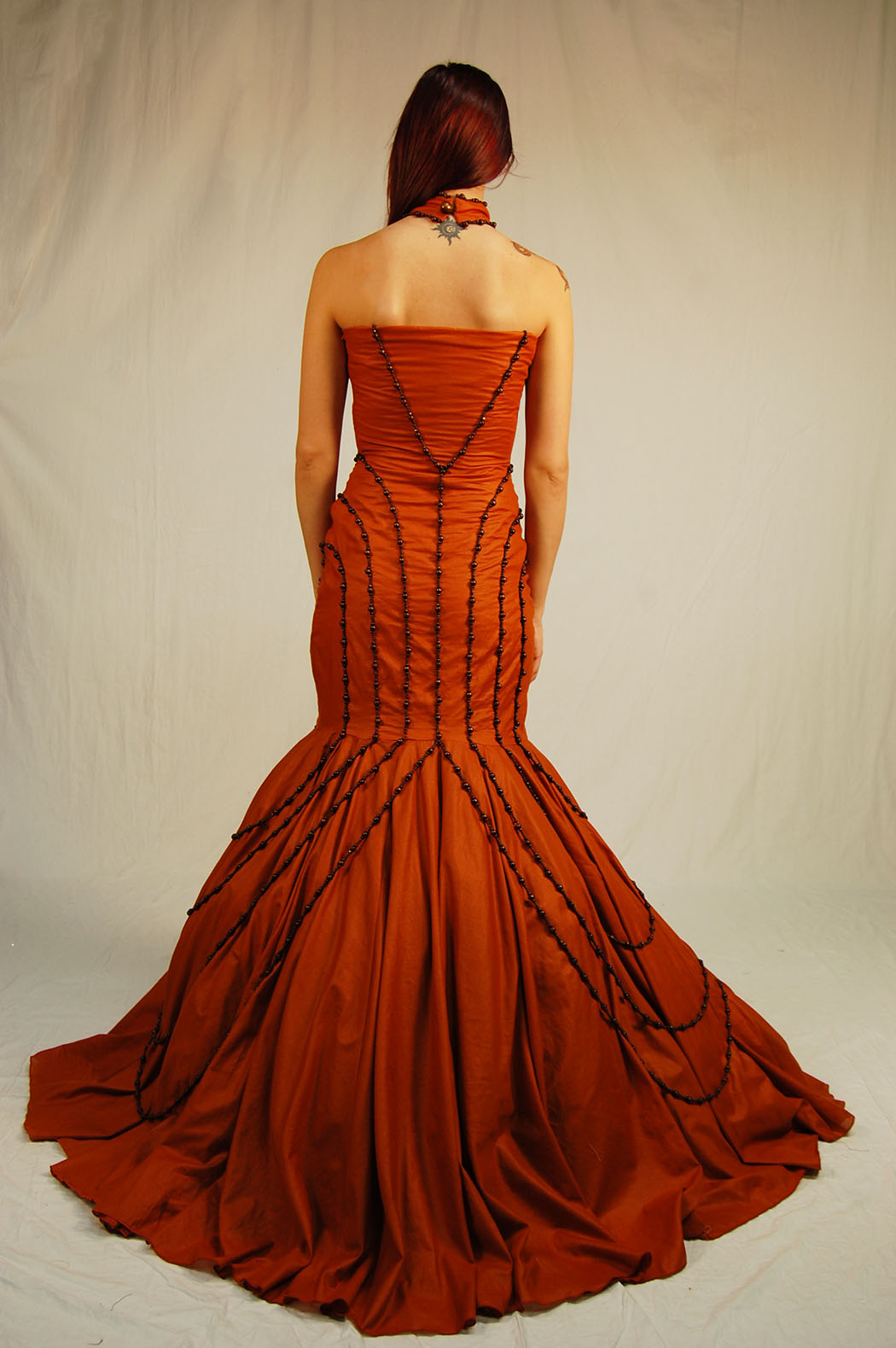 Tree Ring Gown
The purpose of this design project was to evoke the infinite nature of the tree ring through surface embellishment on a evening gown. The design was achieved using hand beaded strands of wooden beads in a oval formation on the sides of the gown. This not only reflected the concentric nature of the tree ring but also provided unique design detail.
Construction
Dress
The pattern was developed using draping techniques on a legged form. The skirt panels were flat patterned and are cut in 1/4 circular panels.The outer shell of the dress is made of orange handkerchief weight 100% cotton chintz with the wrong side out. The dress is fully lined in interfaced quilters weight cotton and has 22 pieces of plastic zip ties for boning. The lining has a built in crinoline petticoat made of 30 yards of black tulle netting. Finally the dress closes with an invisible side zip and the collar piece has a large wooden bead with an elastic loop closure.
The Beading
The hanging beads of the skirt are stranded onto black crochet yarn for strength. The beading uses alternating 4x3mm, 6x5mm and 10x9mm dark brown wooden beads. The repeat of the beading is four 4x3mm, one 6x5mm, one 10x9, one 6x5mm followed by four 4x3mm and so on. Each strand of beads on the body of the dress are hand sewn over seam lines that form the shaping in the dress. Each strand of beading is sewn in such a way that there appears to be no end to each strand. This is consistent throughout the design except on center back, where there is a back triangular insert where the beading reaches upwards like the branches of a tree.